Medical Meditation: 30-Day Meditation Challenge, Week 1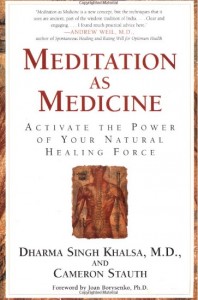 After reading the book Meditation as Medicine by Dharma Singh Khalsa, I decided to embark on a 30-day personal challenge. You can check out the rules I've established for this project in this recent post. The post also has an associated Slideshare slideshow. You can also check it out here.
You may not think something like a personal challenge has anything to do with landing a job in Ayurveda or alternative medicine. The benefit is not readily apparent. However a paradigm shift is taking place in western medicine. Many people are seeing scientific, allopathic medicine as a hindrance to optimal health. We are learning that simply eating chemicals to get rid of the symptoms of an illness doesn't work. It leads to an endless cycle where medicine leads to more medicine. For chronic illnesses, western medicine simply doesn't attack the root of the problem.
As my good friend of mine recently said, "If you take away their chemicals, most doctors simply do not know what to do."
We are entering a time when its simply not good enough to eat a pill and call a doctor back in the morning. Thousands of Americans and other people around the world are slowly realizing that, while western medicine has a place in health care, it is not the only solution to what ails us. This is a growth period in alternative medicine when we are reevaluating the effectiveness of traditional health care systems, especially naturopathy, traditional Chinese medicine, and Ayurveda. There are global work opportunities in these fields that are only increasing every day.
An increasing number of people are seeking alternative ways to treat their illnesses. This is where medical meditation comes into play. Stress is one of the leading causes of inflammation-related illness and meditation is one of the best treatments for stress.
I've decided to  be a guinea pig for all of you. I've decided to take on a 30-day meditation challenge and document my journey on this website's YouTube channel. Here's a short video summarizing how it went in Week 1:
Stay tuned to see what happens in Week 2.
Feel free to write a comment below or send me an email.