Introduction to Ayurveda on YouTube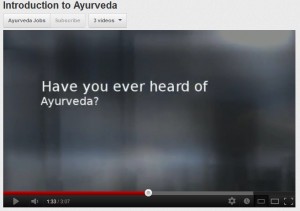 Last week, I started a YouTube channel for Jobs in Ayurveda. I decided that the first video should be an introduction of Ayurveda. Many people around the world have no idea what Ayurveda is. I think it's a good job for anyone planning on working in Ayurveda, alternative medicine or any related field to help the public learn more about this fascinating healthcare field. Ayurveda has been around for at least 5,000 years and has found a way to adapt to human society throughout that long period. Now, it's time for Ayurveda to go online and spread the message to the millions of people out there that could really use Ayurvedic medicine.
Check out the video:
I'll also be creating and adding new videos about job searching, working in Ayurveda, and tips on how you can land a job in Ayurveda.
I also want you to note that YouTube is one of the most popular websites on the internet. There is already a wealth of videos on Ayurveda and alternative medicine, but there is tons of room for improvement and growth in informational videos. I'm sure that those of you out there that are a little tech savvy and industrious can find a way to make money by creating GOOD online videos for Ayurvedic professionals around the world. Just a little hint.
Share this video far and wide. Please, contact me or write a comment below if you have any questions.