Free eBook: 3 Essential Elements of a Successful Job Search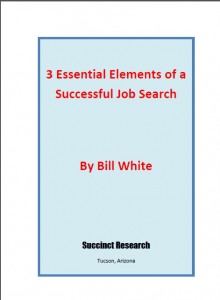 Last week, I got one of my articles (Job Hunting with Confidence) published on WorkAwesome—a website dedicated to providing tips to increase workplace productivity. I was flooded by tons of comments on my personal Facebook account from my friends that read the article and felt inspired. I was also inspired by this outpouring of kudos from some of my closest friends and family. Some of these folks are also followers of Jobs in Ayurveda.
Since that article went live, I have been receiving quite a few emails and Facebook messages from friends and acquaintances that wanted to know, specifically, how they can land interviews that could result in a job. I tried to respond to each request for information, but finally realized it would take too long to look into the specifics of what each individual should do in order to land a job. Evidentially, there are lots of people out there that want to know how to create a successful job search.
The questions I've been receiving this last week prompted me to complete an eBook I'd been writing for my business Succinct Research. The book (3 Essential Elements of a Successful Job Search) is available for free on the Succinct Research website, but I thought I'd also make it available here on Jobs in Ayurveda.
This eBook describes the steps I took to find a job after I was laid off earlier this year. In a nutshell, the 3 Essential Elements are:
Managing your Online Persona- I haven't really discussed this before, but internet search engines are constantly compiling information on your activities. Much of this information can be seen by potential employers or customers. These days, it's increasingly important for you to control the type of information search engines collect about you. The best thing about search engines is they can be used to create a database of good information about you—the type of info that makes you appear to be a perfect employee or business. You need to harness the power of the internet to create an online persona that impresses anyone that looks you up.
Creating Killer Personal Advertisements- Your resume is, perhaps, your best personal advertisement (click here if you want to see the resume-writing tips on this website). But, a resume is only the tip of the iceberg. Social media profiles, personal websites, blog articles, journal articles, and published books are all other avenues you can take to establish yourself as an expert and a reputable business. You need to do everything you can to set yourself apart from the competition. The personal advertisements are your best resource.
Stealth Online and Face-to-Face Networking- I've talked at length about the importance of networking (check out the Secrets of Networking for Jobs in Ayurveda series I wrote a couple of months ago). In addition to face-to-face networking, you need to conduct targeted research that will allow you to get in contact with the companies and people that have the power to hire you. It's also important to find a way to get your killer personal advertisements directly into the hands of someone with the power to hire you.
Effective networking starts face-to-face, with the contacts you already have, and continues onto the internet where you can strategically conduct research that narrows down your job search and helps you contact the right people.
These are the 3 Essential Elements to a Successful Job Search and they're available for free on Jobs in Ayurveda. Sign up for the bi-weekly newsletter and receive your free copy of this powerful eBook today.
Contact me or write a comment below if you have any questions.