Creative Visualization for Job Seekers Slideshare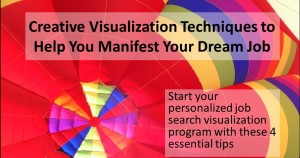 Recently, I was telling a co-worker about my post last week on creative visualization for Ayurveda job seekers. He was interested. After listening to my hints, he finally said to me, "It's great that you wrote an article for people working in Ayurveda, but what about folks in our job field? I know a bunch of people that are unhappy with their current job and could really use an article like that to help them out."
I instantly realized that my article could help more than the readers of this website, so I started rewriting that post into a new article to share on another website dedicated to workers in my job field. The rewrite was going slow and I actually had to stop what I was doing because I just couldn't figure out what to say.
I started surfing the net, looking for inspiration, and I happened to come across a captivating slideshare.net presentation on a blog that I regularly follow. "Eureka!" I thought to myself. "I'll make a slideshow that everyone can share with their friends and family." So, I set to work and came up with this slideshow:
I honestly do feel like it's important for us to have a clear vision of what we want from our careers. Working in a job field that's best suited to our Ayurvedic personality type is one of the best ways to cut down on work-related stress-induced illness. Many people out there, especially in the United States, are working in jobs that they really aren't suited for and it's a major contributor to stress-related illness and inflammation. Ayurveda can only do so much. Our lifestyles are central to our well-being.
Please share this presentation with anyone that is having trouble with their job search. Send me an email or write a message below if you have anything to add to this conversation.