Using Yoga to Balance Your Life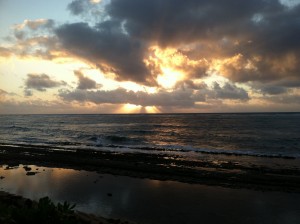 It was as if I was living in a dream. There I was, standing on a grassy yard overlooking a rocky beach Hawaii. Cool morning air caressed my body as I did a simple series of yoga poses (many of which are in my 15-Minute Yoga Regimen eBook). Fresh, ocean air deeply entered my lungs and soothed my mind. All of my frustrations and tension melted from my body with each exhale. Even though it was only a few minutes of the day, these short yoga and meditation sessions helped restore balance to my action-packed family vacation.
Whether you're preoccupied with beating the bushes in search of an Ayurveda job, taking care of your family, or studying full-time, Yoga is an excellent way to restore calm and balance to your life. It's one of the branches of Ayurvedic medicine and is the most widely accepted in the western world. Here are some of the ways yoga has been proven to restore balance:
Soothing nature of deep breathing- Yoga is about more than just physical postures (asanas). Deep, calm breathing is one of the other significant elements to a restorative yoga regimen. As I have already posted here, deep breathing can do much to soothe the mind and restore calm. It also has other healthful benefits, such as reducing blood pressure and helping you go to sleep easier.
Physical fitness- You have to use your muscles if you want to keep them strong and healthy. While you can get big, powerful muscles lifting weights or doing intense exercise, physical fitness can also be maintained while mindfully holding yoga asanas. In fact, yoga is one of the least intensive physical fitness methods because each practitioner can choose postures that are best for their physical abilities. Yoga's benefits are also catching on as an effective training method for professional athletes including football players and cricketers. Trainers in professional sports are realizing how yoga helps strengthen core muscles, stretch long muscles, and aide concentration. Even the world's best athletes are realizing how yoga can restore balance while simultaneously maximizing fitness.
Fight disease- Ayurvedic practitioners already know yoga plays an important role in combating illness, but doctors in the west are just now figuring it out. Recent research is proving that a gentle yoga regimen helps improve memory, lessens fatigue, and can even help treat cancer. Older adults that practice yoga daily also report greatly decreased muscle and joint pain. Ongoing clinical research is only proving what Ayurveda has known for thousands of years: yoga is a powerful medicine that can help prevent disease.
It is easy for our busy lives to get out of balance. Most people have a number of stressors that can send their day-to-day lives into a tailspin. But taking a few minutes to balance out your physical and mental state is extremely important.
Yoga instructors are the most prolific and trusted holistic healing professionals in the United States. Many Americans, me included, became interested in holistic healing systems like Ayurveda after learning a little about yoga. Since I started doing yoga over 13 years ago, I have incorporated more and more elements of Ayurveda into my life. I do yoga everyday, even while on vacation. This activity has done more to balance out my busy life than anything else. It is important to help spread all aspects of Ayurvedic medicine, including yoga. It's also important for folks working in Ayurveda to take the time each day to balance their own lives with an activity like yoga or meditation. The benefits of a few short minutes of yoga will follow you throughout the day.
I would love to hear from you. Please email me or write a comment below.