Ayurveda is the Foundation of Holistic Healing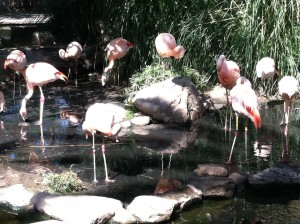 An old Ayurvedic saying goes something like this: "If your diet is wrong, medicine is of no use. If your diet is correct, medicine is of no need."
I thought of this saying this weekend when I took my young son to the local zoo. In our wanderings throughout the zoological gardens, we came across the flamingo exhibit. We both stood there checking out the flamingos on that glorious morning; my body warmed by the sun and my heart warmed by this quality time with my son. The flamingos appeared to be oblivious of the dozens of spectators watching their every motion as they gobbled up algae and bugs from the water, nonchalantly shifting from one leg to the other as they ate. For those of you that don't know, flamingos are entirely pink because of the small shrimp they evolved to eat. Those little shrimp can't be cultivated for zoos to feed to their flamingos, so a specially formulated "flamingo food" has to be fed to them so their feathers don't turn white.
Watching those birds, I realized that what we eat really does influence who and what we are. A flamingo without shrimp or a special food isn't really a flamingo anymore since those pink feathers are pretty much what separate that animal from the many other marsh-dwelling birds around the world. In this respect, flamingos are very similar to humans. When we eat the healthy things we evolved to eat, we can achieve optimal health. When we don't, our health suffers.
This is one of the central concepts of Ayurveda. The you-are-what-you-eat concept is also central to many other holistic healing traditions, but since Ayurveda came before most of the recognized holistic healing traditions, I consider it the foundation for all subsequent holistic healing traditions.
Practiced as early as 4,000 B.C., Ayurveda is one of the longest formally practiced health traditions in the world, possibly rivaled only by Traditional Chinese Medicine that has been practiced at least since 3,000 B.C.! (Check out this post if you want a brief summary of what Ayurveda is). Ayurvedic medical science concentrates on optimizing food and beverage intake because it is understood that this material will ultimately be transformed by the body into the three biological humors (called doshas in Sanskrit), which constitute the seven types of bodily tissues (dhatus in Sanskrit). Ayurveda also states that every food, herb, drink, and beverage we consume has its own innate physical properties based on the environmental conditions it arose from and the way it was prepared by human beings. Much of Ayurvedic medicine revolves around controlling the substances we consume in order to influence the tissues in our bodies; although, Ayurveda also includes meditation and physical exercise (Hatha yoga). Basically, food, herbs, and drinks, in conjunction with mental conditioning and healthful physical exercises, are the medicine in Ayurveda.
Managing what substances we consume, how we think, and what we do is at the core of nearly every other holistic healing tradition we have today. Consider yoga, which is arguably the most widely recognized holistic health tradition in the United States. Yoga is actually one of the original branches of Ayurvedic medicine that focuses on using mindfulness while doing certain postures to increase blood flow, strengthen the mind, and aide the lymph system. The beneficial results are continually documented. Ayurveda is also central to naturopathic medicine, which is one of the most innovative fields in modern medicine. Naturopathy is essentially using ancient Ayurvedic treatments by Western-trained physicians. Naturopathic medicines are typically herbal, which was pioneered in Ayurveda.
Managing the physical substances consumed by patients is also a major component of Western allopathic medical practice. However, western medicine has not really tapped into the power of positive thinking or controlling the mind. Most western doctors prescribe their medicine and treatments in order to change the body's chemistry in a manner that alleviates disease symptoms. Mental strengthening exercises would do much to increase the efficacy of western medicine, but these have not been widely accepted or encouraged.
There are hundreds of Ayurveda-based medical traditions, herbal supplements, and therapies in the world today. As long as they stay true to the core tenet of Ayurveda, that you are what you eat, they'll probably improve our health.
Please drop me a line if you want to know more or write a comment below.