End to the Costco cut-in-line story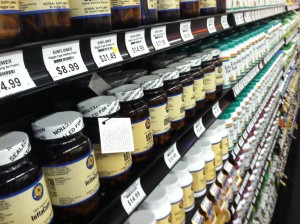 For those of you that followed my comment on YoungPrePro, here's the end of the story (it's true too by the way).
I told him, "you're lucky I did my yoga and meditation this morning otherwise I'd do something that I might regret." I was serious. I looked him straight in the eye, searching for any sign that he understood how close he was to having an unpleasant time at Costco.
Rather than keep this charade up any longer, I asked, "You do yoga?"
There was a short pause. I could tell he was having a bad day and he had chosen me of all people to irritate.
"No. But my wife does," he replied. The icy standoff was warming up. We had both calmed down and could relate man to man.
"Well I've got something you might be interested in." I gave him my card for www.jobsinayurveda.com. "Here, check this out. I'm gonna be posting a free eBook about a 15-minute yoga routine I've been doing for more than a decade. Tell your wife to go online and download the book. It's going live next week."
He didn't know what to do. He was taken aback and I could see that he was starting to feel foolish for the way he'd acted. Cutting in line is definitely a faux paus in the US. I think the War of 1812 might have been started when a British tourist cut in line for a baseball game in New Orleans. The rest is history. The guy took the card and said thanks. A few more minutes passed. It was his turn in line, but he paused before putting his groceries on the conveyor.
"You can go first if you want," he said. "I didn't mean to cut in line. I just didn't see you there." I don't believe that, but I can always forgive.
"Thanks for the offer." I wanted to go ahead, but something kept me from doing so. "Its alright. Go ahead and put your stuff up there. I can wait. Just make sure your wife checks out that eBook."
"Will do," he said.
It's true. I wrote an eBook this weekend that has a simple, relaxing yoga routine that you can do anytime, anywhere. Its in the editing stage right now, but I plan on posting it next week, so stay tuned. I thought that since yoga is one of the branches of Ayurvedic medicine, I'd create a short book that all of my followers could use.
I'm always looking for comments and suggestions. Feel free to send me a message below or drop me an email.