Yoga above the clouds
I thought I'd post this section of the conclusion from the ebook I wrote this weekend on my 15-minute yoga routine. It gives you an insight on how much I believe in holistic healing and alternative medicine techniques. I'll post the ebook later this week after its been edited by a couple of experts.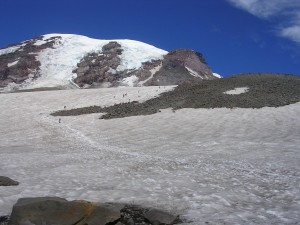 In 2008, I made a summit attempt on Mount Rainer in Washington State. Rainier is 14,411 feet high and is the second tallest peak in the lower 48 states. Some consider it the most difficult peak to climb in the lower 48 because most people go from sea level to 14,000+ feet and back down again in less than 48 hours! The summit bids usually start from Camp Muir base camp at 10,080 feet around midnight in order to beat the sun, which melts the glaciers making it much more hazardous. A midnight strike for the summit usually comes after about 6 to ­8 hours of extreme mountaineering that includes about 4,800 feet of elevation climb over glaciers and rock!
I was awakened around 12:15 AM to get my gear together for the summit bid. I didn't sleep well. The altitude made my head pound and I was struggling for a deep breath all night. I think I got about 2 hours of sleep. I was weak. The shelter at base camp was a hive of activity with people scurrying all around searching for their gear and trying to choke down a little breakfast. I wasn't hungry. In fact, I was kinda nauseous. I felt like I had to get some air, so I threw on my boots and went outside.
Outside, the air was brisk (about 20 degrees F). All I was wearing was a fleece, long johns, and my boots. Despite the fact that my nose hairs were freezing with each inhale, the view was spectacular. I was above the clouds. A midsummer's full moon was high in the sky. Stars twinkled brightly on all sides of me. The icy blue of Rainier loomed large over my shoulder. Then, suddenly, I got really anxious and worried. People die on Rainer and I started thinking the unthinkable. That's when I realized I hadn't done my morning stretches.
I climbed up on a nearby boulder, took off my boots and started doing some Sun salutations. Deep inhale, raise arms. Exhale and release, dive down and touch my toes. Inhale…I kept going for about 5 breaths, all the while being amazed by the beauty all around me. After about 10 minutes, I realized I needed to get my stuff together. The anxiety was gone. All I felt was energy flowing throughout my body and excitement about the upcoming climb.
I started out doing this same routine more than 13 years ago and I'm still doing some of those same poses. Because I used the encyclopedia of yoga asanas to fashion something that worked for me, I've been able to keep doing yoga despite the demands of my life. I've done these stretches everywhere­ beaches on Oahu in Hawaii, on an airplane high over the Atlantic, the morning after my son was born, and on a glaciated peak above the clouds on Rainer.
I truly recommend you start practicing yoga today. Don't wait. This could lead to something that will change your life for the better.